Optimal Fertility Diet Tips
Before we talk about the healthy choices, here are the biggest offenders to your health and fertility, better avoided:
– coffee (can have a negative effect on female hormones);
– sugar (including white sugar, corn syrup, wheat syrup) – a highly addictive substance, causing blood sugar fluctuations, that can sabotage a proper ovarian function;
– alcohol (affects the liver and hormonal balance in men and women);
– monosodium glutamate (MSG), a food enhancer added to foods best avoided while trying to get pregnant and during pregnancy, so check your food labels;
– soda (contains sugar, preservatives and synthetic chemicals best to be avoided when trying to get pregnant);
– tap water can also contain chemicals, so aim to drink mostly filtered water and avoid icy drinks;
– processed foods (put a chemical burden on your body).
A few general basic rules when choosing your foods:
– use organic
– use whole
– use fresh
Balancing the six food groups
A healthy eating plan begins with consuming a wide variety of foods. The key is to eat a variety of foods from all of the groups mentioned here.
① The meat group is high in protein and will contribute to maintaining healthy levels of iron and zinc which are very important for both female and male fertility.
Fish is rich in Omega 3, improving the blood flow to the uterus and ovaries.
If you eat animal products, you can add the following to your diet:
– beef (grass fed)
– chicken (organic)
– turkey (organic)
– cod
– crab
– halibut
– salmon (wild)
– sardine
If you choose not to use animal products, increase the amount of beans and plant based protein sources, such as vegan protein powder, spirulina, nuts and seeds, whilst supplementing your diet with B12.
The fruit and vegetable group is essential for health and they should be the foundation of a healthy diet. They will strengthen the reproductive system with precious phytonutrients. A healthy diet for fertility should consist of seven to nine servings of vegetables and fruits daily.
② The vegetable group
Dark green vegetables:
– broccoli
– chard
– kale
– lettuce
– mesclun
– spinach
– watercress
Other vegetables:
– asparagus
– beets
– butternut squash
– cabbage
– cauliflower
– carrots
– celery
– Chinese cabbage
– eggplant
– green beans
– green peas
– mushrooms
– potatoes
– pumpkin
– onions
– radishes
– parsnips
– red peppers
– sweet potatoes
– tomatoes
– zucchini
③ The fruit group will provide essential vitamins, minerals and fibre:
– apple
– apricot (fresh and dried)
– avocado
– banana
– blueberries
– cantaloupe
– cherries
– figs
– grapefruit
– kiwi
– mango
– orange
– papaya
– pear
– pomegranate
– raspberries
– strawberries
④ The grain group, providing complex carbohydrates and energy.
You can use the following whole grains:
– oats
– brown rice
– wild rice
– buckwheat
– millet
– barley
– whole wheat flour if not gluten free
Avoid refined grains such as:
– cornflakes
– white pasta
– white bread
– white rice
– processed cake/cookies
⑤ The bean group will provide a wonderful source of fibre and protein:
– aduki beans
– black beans
– chickpeas
– lentils
– mung beans
– split peas
– soybeans (organic only), including organic tofu (in moderation) and organic tempeh.
⑥ The healthy fats group. Aim to include a small quantity of healthy fats with each meal:
– nuts (almond, walnut, macadamia, cashew)
– seeds (hemp, chia, flax, pumpkin, black sesame)
– coconut oil
– extra virgin olive oil
– avocado oil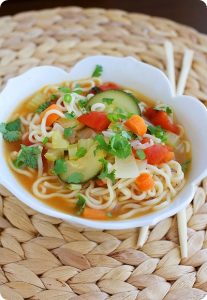 You can try this warm nourishing ramen bowl.
You will need:
– 4 cups of vegetable broth of your choice
– 2 cups rice of buckwheat soba noodles
– 1 head fennel, sliced
– 3 cloves garlic, minced
– 3 leaves swiss chard, chopped into thin pieces
– 1 white onion, chopped
– 1 cup of any greens that you can find – broccoli, spinach or kale
– coconut oil
– salt and pepper
– nutritional yeast
Garnish:
– 1 green onion, minced
– 1/4 cup red pepper, chopped
– 1 soft boiled egg
– 1/4 avocado, sliced
– red chili pepper flakes
– sesame seeds
Start by preheating the oven to 170° C.
Place fennel, garlic, and nutritional yeast in a large bowl. Pour 1 tablespoon of coconut oil over them and mix well. Add salt and pepper to taste. Place on a tray and let bake in the oven for 35-45 minutes or until tender with a fork. Watch closely, as oven times vary!
Over medium low heat, put 1 tbsp of coconut oil on a saucepan. Add your onion. Let it cook for a few minutes, then add 1 of the minced cloves of garlic. Add 1/4 cup filtered water. Cover your onions and let them cook, stirring occasionally, until golden brown. Set aside.
Over medium low heat, put 1 tbsp of coconut oil on a saucepan. Add your chard. Let it cook for 1 minute, then add garlic. Cook for additional 3 minutes. Set aside.
Bring a pot of water to boil. Cook rice noodles as indicated on the pack. Drain and let sit aside.
In a large soup pot, place broth into the pot over the low heat. Add the roasted fennel, sautéed onions, chard and greens to your stock. Transfer some soup to a large bowl for eating.
Add your green onions, egg, pepper, chili flakes, avocado, and sesame seeds. Enjoy!