ACUPUNCTURE
Slava Sviridovs • Geneva / Genève
Relax & Focus with Auricular (Ear) Acupuncture

Do you work in a high-pressure fast-paced environment? Do your team members go through frequent periods of rapidly changing workload and associated stress? 
"Relax & Focus" is a special on-site restorative and preventative auricular (ear) group acupuncture programme. It utilises five thin short needles placed in each ear and retained for 30 minutes, accompanied by a relaxing music. 
The treatment is completely safe, side-effect free and is well suited for a group setting, providing the following benefits: 
• A marked stress reduction
• Improved focus, concentration and efficiency
• Reduced sensation of sluggishness and lethargy
• The session takes place in a regular sitting position, the participants remain fully dressed and do not need to reveal any personal information
• The group setting serves to further enhance the treatment effect and to reassure and bond the participants 
Acupuncture has a well established track record in stress-reduction, please see this British Acupuncture Council's paper: http://www.acupuncture.org.uk/a-to-z-of-conditions/a-to-z-of-conditions/stress.html 
This acupuncture protocol offers an excellent natural way to relax, while also improving participants focus and creativity. 
Number of participants per session: 5-15 
Price: CHF 50 per person per session 
Optimal session frequency: 1-2 times per week 
Contact me if you would like to organise these sessions for your group.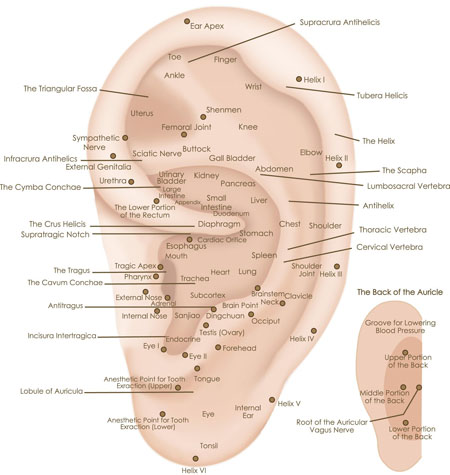 Détendez-vous et augmentez votre concentration grâce à l'acupuncture auriculaire (oreille).

Est-ce que vous travaillez dans un environnement au rythme rapide à haute responsabilité ? Est-ce que vous-même ou les membres de votre équipe expérimentez du stress au sein de votre entreprise ? 
"Relax & Focus" est un programme spécial d'acupuncture auriculaire pour les groupes afin de lutter et prévenir le stress et ses effets négatifs sur l'efficacité et l'ambiance de votre équipe.
L'acupuncture proposée dans ce protocole utilise cinq courtes et fines aiguilles placées dans chaque oreille pendant 30 minutes. La séance s'accompagne de musique douce et relaxant afin d'offrir aux participants un moment de détente tout en augmentant leur concentration et leur créativité. 
Le protocole est sans effets secondaires et très bien adapté pour un groupe. Il offre les avantages suivants : 
• Une réduction marquée du stress
• Amélioration de la concentration, de la créativité et de l'efficacité
• Diminution des sensations d'apathie et de léthargie
• La séance est facile à mettre en place et les participants demeurent assis
• De plus, le dispositif en groupe améliore l'effet du traitement en créant un lien entre les participants 
D'après de nombreuses études, l'acupuncture est une approche reconnue pour son efficacité de réduction du stress. Veuillez-vous référez au document suivant : http://www.acupuncture.org.uk/a-to-z-of-conditions/a-to-z-of- conditions/stress.html 
En conclusion, ce protocole d'acupuncture offre une excellente opportunité de se détendre tout en améliorant la concentration et la créativité des participants. 
Nombre de participants par séance : 5 à 15 
Tarif : CHF 50 par personne et par séance 
Fréquence de protocole optimale : 1 à 2 fois par semaine 
Veuillez me contacter si vous souhaitez mettre en place ce protocole au sein de votre entreprise pour votre équipe.