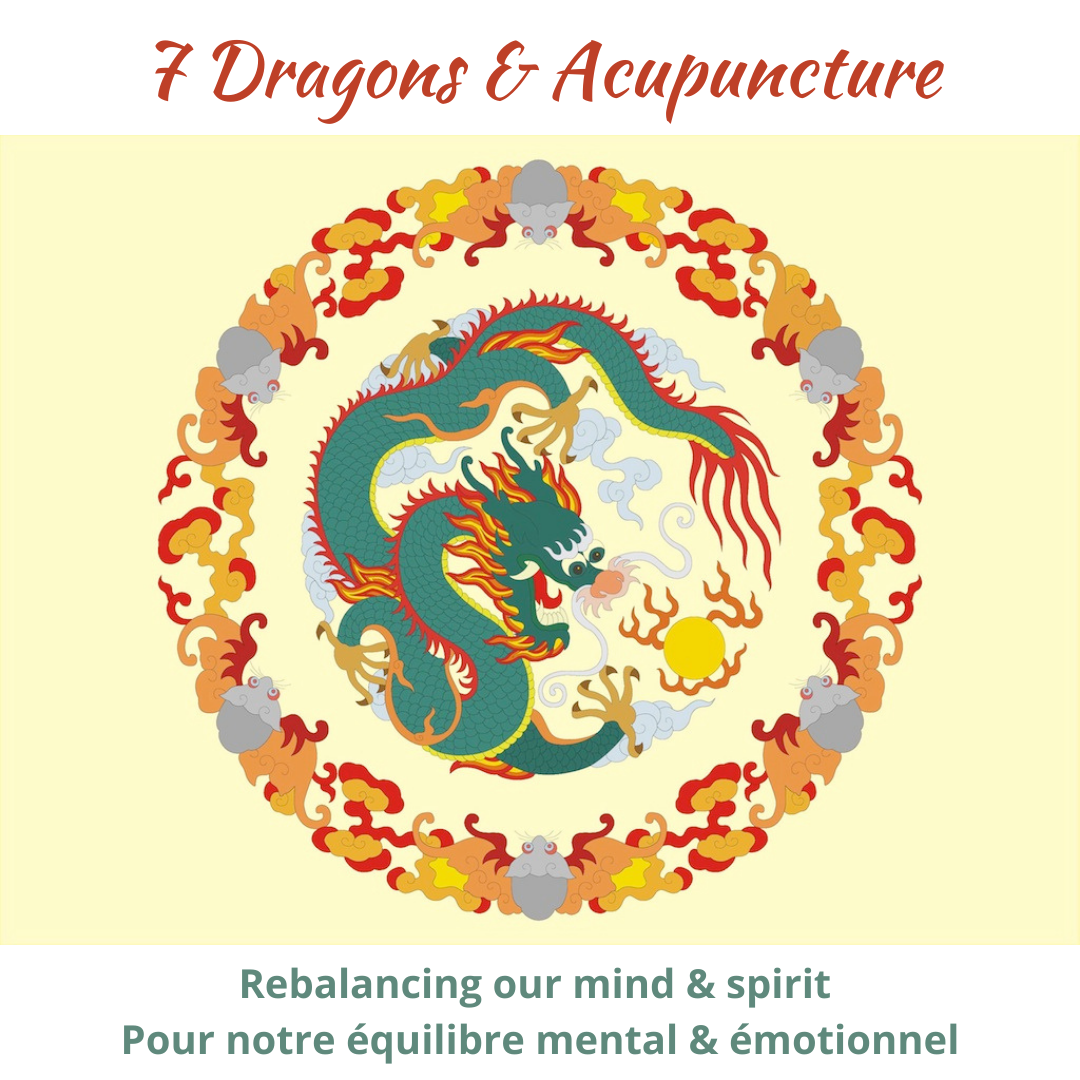 🇬🇧 The Seven Dragons acupuncture treatment
Traditionally in China dragons have been regarded as having a benevolent influence. They symbolise power and justice and are thought to bring good fortune and wealth.
In Five Element Constitutional Acupuncture the Seven Dragons acupuncture treatment is used to clear any deep rooted imbalances and blockages in a person's mind and spirit.
These blockages can come from internal sources (emotional shocks, instability or extreme stress), as well as external sources (alcohol/drugs abuse or overexposure to extreme climatic factors). In both cases a significant element is that an affected person feels overwhelmed or overpowered by this internal or external influence and helpless.
The symptoms may include:
unexplained insomnia
recurrent nightmares
background anxiety without an obvious cause
feeling blocked at a deep level
The Seven Dragons acupuncture treatment uses a combination of seven points. Each point wakens a Dragon and the seven chase the negativity out. It is a very effective transformative treatment, clearing deep rooted imbalances, realigning our emotions and pacifying the mind and spirit at a very deep level.
🇫🇷 Traitement d'acupuncture des Sept Dragons  
Traditionnellement, en Chine, les dragons sont connus pour leur influence bienveillante. Ils symbolisent le pouvoir et la justice et sont censés apporter la chance et la richesse.
En Acupuncture Constitutionnelle des Cinq Éléments, le traitement des Sept Dragons est utilisé pour éliminer tout déséquilibre et blocage profondément enracinés dans le mental et dans l'esprit d'une personne.
Ces blocages peuvent provenir de sources internes (chocs émotionnels, instabilité ou stress extrême), ainsi que de sources externes (abus d'alcool / de drogues ou surexposition à des facteurs climatiques extrêmes). Dans les deux cas, la personne affectée va se sentir dépassée ou accablée et impuissante face à ces influences internes ou externes difficiles.
Les symptômes observés peuvent être les suivants :
insomnie inexpliquée
cauchemars récurrents
anxiété de fond sans cause évidente
sensation de blocage à un niveau profond
Le traitement d'acupuncture des Sept Dragons utilise une combinaison de sept points. Chaque point "réveille un Dragon" et les sept "chassent" la négativité. C'est un traitement transformateur très efficace, éliminant les déséquilibres profondément enracinés et rééquilibrant nos émotions, tout en pacifiant le mental et l'esprit durablement.