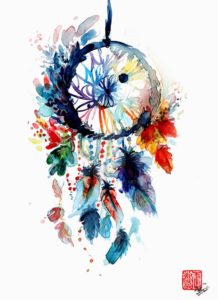 🇬🇧 The word "insomnia" in Chinese medicine encompasses any sleep disturbance, such as difficulties falling asleep, waking up frequently or too early, as well as having a very light and easily disturbed sleep, so we do not feel refreshed in the morning. Often it is quite easy to find and remedy its causes, such as fighting our desire to go to sleep, having stimulants in the evenings or too much excessive noise and bright light. We can also breathe some fresh air just before going to bed or listen to some soothing music to improve our sleep. However, when this is not enough, acupuncture can help relax our bodies and minds by nourishing and rooting our passive (Yin) energy, as well as naturally increasing our melatonin production. These treatments are very gentle and it is better to have them in the evenings, when our active (Yang) energy is on decrease.
Have a look at this short BBC video introducing the role of acupuncture in helping with insomnia:
🇫🇷 En médecine traditionnelle chinoise, le terme "insomnie" regroupe toutes les perturbations du sommeil telles que les difficultés à s'endormir, les réveils fréquents ou trop tôt, un sommeil trop léger et facilement perturbé… bref, tout ce qui nous empêche de se sentir re-charger et plein(e) d'énergie le matin. 
Il est  souvent assez facile de trouver et de remédier aux causes des insomnies en mettant en place une hygiène de vie adaptée à l'équilibre du système nerveux en évitant les stimulants le soir ou l'excès d'exposition aux écrans, par exemple. Nous pouvons sortir respirer un peu d'air frais en faisant un petit tour dehors juste avant d'aller se coucher ou bien écouter de la musique apaisante pour améliorer son sommeil.
Cependant, lorsque cela ne suffit pas, l'acupuncture peut aider à détendre notre corps et notre esprit en nourrissant et "encrant" notre énergie passive (Yin), tout en augmentant naturellement notre production de mélatonine, l'hormone du sommeil. Ces traitements sont très doux et il est préférable de les avoir le soir lorsque notre énergie active (Yang) diminue.
Regardez cette courte vidéo (en anglais) de la BBC décrivant  le rôle de l'acupuncture dans le traitement de l'insomnie :